Over $10 Billion in OneCoin Transactions Traced to Seychelles: Police Investigation Requested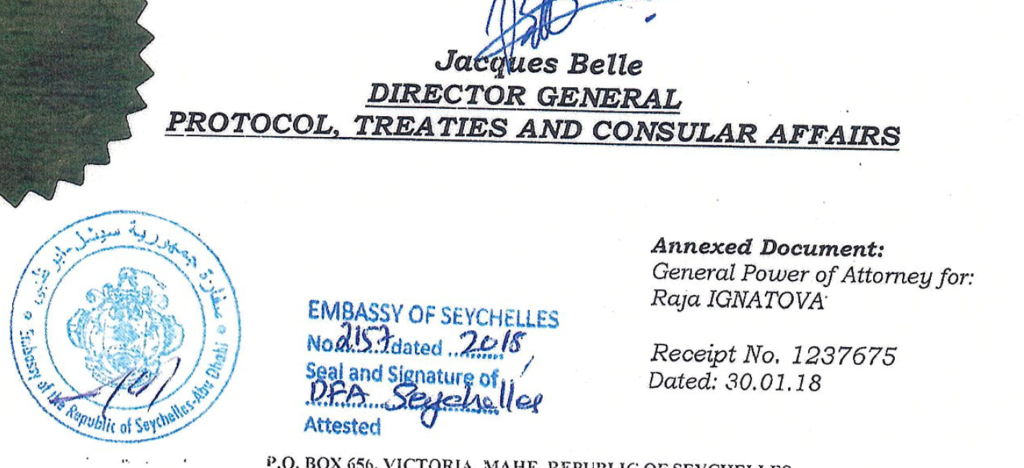 May 12, 2021
Seychelles:
The Seychelles Police Financial Crimes Unit has been asked to investigate multiple transaction involving the transfer of 230,000 Bitcoins, cash and property worth over $10 billion between Ruja Ignatova and confederates . The transfer utilized Powers of Attorney notarized in the Seychelles and signed by OneCoin masterminds Ruja Ignatova and Karl Sebastian Greenwood.
The request for an investigation is the result of claims filed in London, Dublin, and Brussels against the OneCoin organization by victims after up to $500 million of OneCoin loot was recently discovered in Dubai bank accounts. It was also revealed that "Cryptoqueen" Ruja Ignatova sold some of her vast assets in 2016 for 230,000 Bitcoins now worth over $10 billion paid to her by a member of an Emirati royal family. In exchange for the Bitcoin hoard His Excellency Sheikh Saoud bin Faisal Al Qassimi received a Power of Attorney granting him control of the OneCoin portfolio of bank accounts, companies, and real estate purchased from Emirati property developers Emaar, Nakheel, Union, Deyaar, and Properties Investment LLC.
The One Coin organization funneled billions to banks and real estate in Dubai where they were aided by Sheikh Saoud bin Faisal Al Qassimi and real estate agent Mimoun Madani. Madani and Sheikh Al Qassimi obtained the dubious Seychelles Powers of Attorney from Ignatova, Greenwood, and their associates. The Powers of Attorneys were then submitted to various officials and courts in Dubai as proof of ownership of assets. It is unknown if Madani and Al Qassimi are working on their own behalf or for the wanted fugitive Ignatova.
The Largest Bitcoin Transaction Ever Recorded is Linked to Seychelles
In 2016 Sheikh Al Qassimi in a well-documented and witnessed transaction handed over to Ignatova, four hard wallets (USB devices) containing 230,000 Bitcoins then worth about $50 million in exchange for a Seychelles notarized Power of Attorney for frozen One Coin bank accounts, other assets and real estate in the UAE worth perhaps $1 billion. The 230,000 Bitcoins are now worth a staggering $10 billion.
The lawyer lodging the criminal complaint, Dr. Jonathan Levy, has offered to assist the Seychelles Police Financial Crime Unit in an investigation of Mimoun Madani and Sheikh Al Qassimi:  "Madani and Sheikh Al Qassimi have never been seriously questioned by law enforcement; Al Qassimi has details about 230,000 Bitcoin in possession of the criminal mastermind Ignatova and Madani claims to be working for Ignatova and Greenwood."  Dr. Levy also suggests that it is in Seychelles best interest to quickly open an investigation: "The misuse of the Seychelles jurisdiction and involvement of public officials to commit the crypto crime of the Century calls into question the use of the Seychelles by other crypto ventures including the world's largest cryptocurrency exchange Binance which makes extensive use of the Seychelles as a corporate headquarters. If Seychelles lacks the ability to regulate crypto asset transactions worth billions then there are serious anti money laundering issues raised about cryptocurrency companies that choose to base their operations there."